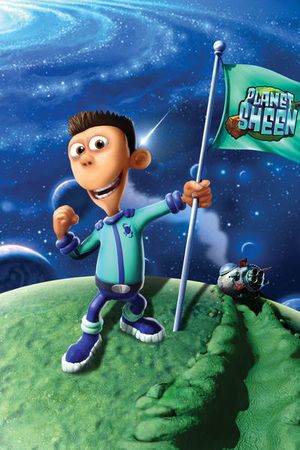 October 20, 2011 - Back in May of 2009, Nickelodeon was gracious enough to ask me to audition for a new show that was in the works called Planet Sheen. This was to be a spin-off of the wildly popular 2002 TV series The Adventures of Jimmy Neutron: Boy Genius as well as the 2001 Oscar-nominated film Jimmy Neutron: Boy Genius. This new CGI-animated show would follow the antics of Jimmy's sidekick, Sheen Estevez, as he caused mischief on a distant planet with an entirely new cast of characters. The prospect of landing this scoring gig seemed exciting because in the producers notes they explained that they were looking for a quirky, New Wave-y sound reminiscent of Mark Mothersbaugh (DEVO) and Danny Elfman (Oingo Boingo). Needless to say, I felt right at home within these parameters! I came up with three different theme ideas, all in slightly different, but keeping in mind the producer's notes. 
The first thing I did was a bubbly, pop-punk cross between DEVO, X, and They Might Be Giants with some temporary lyrics I came up with- just to give them an idea of how words would fit in to the song:
Here's a theme for Planet Sheen.
I know... It's a spin-off show... based on Jimmy Neutron.
That's my show!
It's called Planet Sheen!
It's called Planet Sheen!
I couldn't stop thinking about the B-52's for some reason so for my second attempt I had this vision of a mutated Planet Claire complete with sputnik satellites and a bit more rock energy. Finally, the third version was a simple, safe, punk-nouveau ditty complete with New Wave synths and a surf guitar solo. 
The prospect of landing a new cartoon series at Nickelodeon during this time would have been great for me. I had just come off of composing music for the short-lived, but critically-acclaimed, Making Fiends which was currently airing on Nicktoons every week so my hopes were high. I submitted the songs, along with some additional spec cues for their early animatic pilot and anxiously awaited a reply. 
I didn't get the job. 
Ego Plum