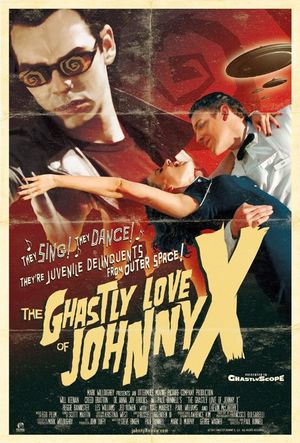 February 29, 2012 - I spent the better part of 2011 working on a single project: the musical score to Paul Bunnell's, THE GHASTLY LOVE OF JOHNNY X. I had never composed music at the grandiose scale Paul was asking for – but for some reason, he knew that I would be capable of doing it. Was I in over my head? Probably! Starting around February, I spent several weeks walking in circles at the track at my gym listening to a few incredible film scores over and over. I was attempting to learn by osmosis and channel the spirits of Bernard Herrmann's scores to The 7th Voyage of Sinbad, Vertigo, The Day The Earth Stood Still, and Psycho. Then there was James Horner's score to Something Wicked This Way Comes, which seemed completely beyond my range of abilities. I listened to the music John Williams composed & adapted for the Indiana Jones Ride at Disneyland for some very specific references. I made myself loopy from Jerry Goldsmith's Twilight Zone television scores. Finally (and most importantly) I immersed myself in Franz Waxman's score to Bride of Frankenstein, which I have now heard more than any film score ever! What I learned from listening to Waxman's Bride of Frankenstein score may have laid the foundation for most of the music I wrote for Johnny X. In fact, what I learned from listening to Waxman may have laid the foundation for the rest of my composing career!
After about six months, I emerged from my self-imposed exile with what would be my proudest musical achievement: about 78 minutes of original orchestral music composed, recorded, and produced for the Ghastly Love of Johnny X! (See trailer below)
The Ghastly Love of Johnny X will have it's world premiere at 
the CINEQUEST Film Festival in beautiful San Jose, California! 
Saturday, March 3, 2012 at 9:30PM 
presented in glorious 35mm! 
Cast & Crew Q&A session will follow the film screening 
Admission: $10 
(The film will also be screened on March 6th & 10th at the San Jose Repertory Theater) 
Please come by and say hello. I will be at the screening, as well as director Paul Bunnell and stars Creed Bratton (The Office), Kate Maberly (The Secret Garden), and others! Also,  I will be live on the air at KFJC 89.7FM (San Jose) with Paul Bunnell talking a little more about Johnny X on Saturday, March 3rd at 11am. I could not be more excited about sharing this work because I really feel it's the best musical thing I've ever done. Stay tuned for an official soundtrack release on the Kritzerland label in a few months! In the meantime, here's a sneak peek at one of the more subtle cues from the film that involves a spaceship, a biker gang, and a disembodied head floating in space (don't ask!).
additional info about the film at the Johnny X website: